Dak Prescott Rise On Draft Weekend Says Adam Schefter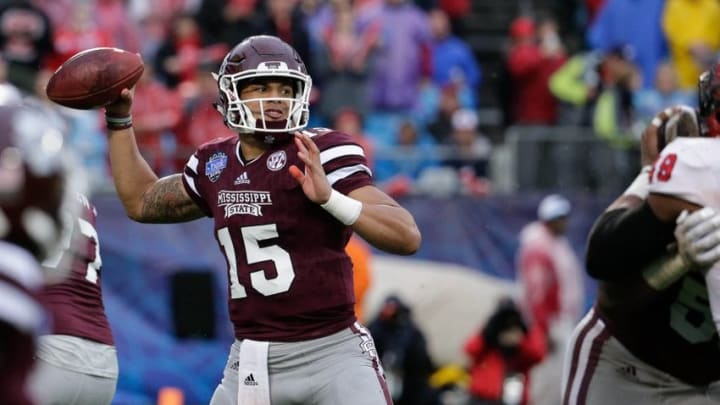 Dec 30, 2015; Charlotte, NC, USA; Mississippi State Bulldogs quarterback Dak Prescott (15) throws a pass during the first quarter against the North Carolina State Wolfpack in the 2015 Belk Bowl at Bank of America Stadium. Mandatory Credit: Jeremy Brevard-USA TODAY Sports /
This morning may have more Broncos news with naming them as the team. Adam Schefter of ESPN pointed out buzz around Dak Prescott, which might be a positive in case the Broncos do not take Paxton Lynch. Schefter tweeted Prescott might be drafted higher than people think.
As stated, if the Denver Broncos do not land Colin Kaepernick or Paxton Lynch, quarterbacks Prescott and Connor Cook could be viable options in the second round. However, Connor Cook has received some first round buzz of late adding another legitimate option for the Broncos at 31.
Prescott has been on the radar of the Broncos since this draft process began. He is an interesting choice for the Broncos due to his size and mobility. Prescott has a strong arm and has the big body frame like Tim Tebow; however has more tools ironed out than Tebow. Prescott has shown tremendous improvement as a passer to be successful as a quarterback and his size could withstand pressure if he takes hits.
The Denver Broncos have been extensive in their search for a draft quarterback. This will be answered tonight and during the weekend as Broncos hold the 31st pick of the NFL Draft.