Von Miller's Dancing with the Stars: Week 5 Recap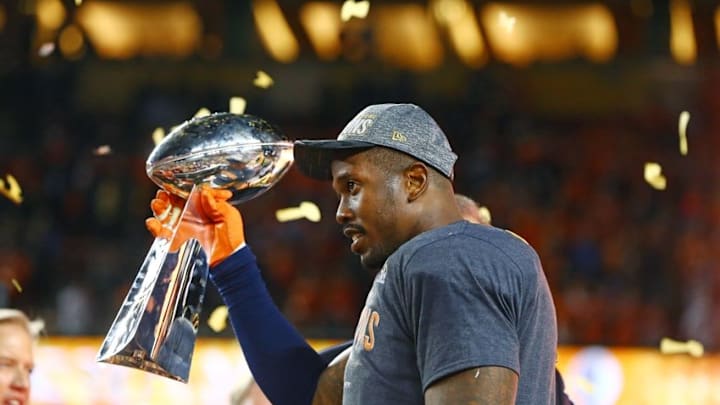 Feb 7, 2016; Santa Clara, CA, USA; Denver Broncos outside linebacker Von Miller (58) celebrates with the Vince Lombardi Trophy after defeating the Carolina Panthers in Super Bowl 50 at Levi /
Denver Broncos outside linebacker Von Miller continued his race for the Ballroom Trophy as Dancing with the Stars is now five weeks strong. How did the Super Bowl MVP do this week?
While Von Miller was absent from the start of the Denver Broncos organized team activities, he continued dancing away as Dancing with the Stars continued on the season.
This week, the couples were switched-up, as Von and Witney Carson were separated for the first time in this competition. It was a chance to see how Miller could perform with a new dance partner.
America decided to pair up the MVP of Super Bowl 50 with Lindsay Arnold, who is currently Wayna's partner. Arnold has enjoyed a lot of success this season and she and the Boyz II Men artist are currently near the top in the standings.
Would the switch up give Von Miller a spark for the remainder of the competition? Let us check out the dance.
The setting was perfect for Miller as it was set as a country background. Having Texas as the lights on the dance floor gave the dance scene a little bit more of a personal touch for him.
With what I saw, Von Miller's feet did not appear to have a whole lot of pep in the step. His feet appeared a bit stiff when he was dancing. After last week's stellar performance, I was a bit surprised. But it did look like he was having fun out there.
I believe minus the feet movement, Lindsay was a good partner for Von Miller. She appeared as if she was having fun out there and the little number at the end was quite fun to see.
For the second week in a row, there was a celebrity judge. This time it was Maksim Chmerkovskiy, who won the competition in Season 18.
Next: Broncos to visit with Brian Hoyer
Carrie Ann gave the couple an eight for a score. The remaining three (Len, Maksim, and Bruno) went with a seven. That brought the score to a 29 out of 40. Kind of an off night for Von Miller score wise.
Due to the Switch Up, there was no elimination this week for any of the dancers. So, Miller remained safe. Next week, Von reunites with Witney as the couple try to learn a famous dance in Week 6. Keep at it MVP.