Broncos interested in German phenom Moritz Boehringer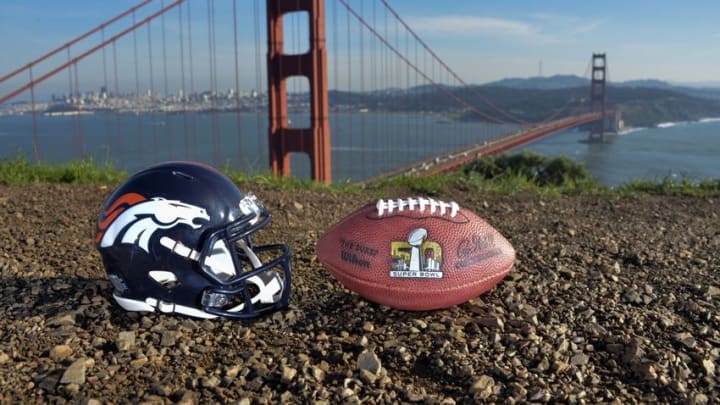 Feb 5, 2016; San Francisco, CA, USA; General view of Denver Broncos and NFL Wilson Duke Super Bowl 50 logo helmet at the Golden Gate bridge. Mandatory Credit: Kirby Lee-USA TODAY Sports /
The Denver Broncos are one of a number of NFL teams to set up a visit with German phenom WR Moritz Boehringer, who had an incredible pro day at Florida Atlantic…
Moritz Boehringer may not be a first round prospect, but he's just as athletic as the best of the best in this year's draft class.
And the Denver Broncos have taken an interest.
It's nice to see the Broncos taking a significant interest here. After Boehringer blazed a 4.41 in the 40-yard dash, the team set up an in-house visit with him.
The Broncos have a ton of open roster spots, and Boehringer would certainly be a guy that you'd like to see in an NFL camp. How does he respond to the change in speed and pace of the game? How does he respond to the physicality? In the game tape that's available for this young draft sleeper, he looks like a college kid playing with middle schoolers. He's just that physically dominant.
More from Predominantly Orange
At 6-4, 227 pounds, for him to run as fast as he did and to test as well as he did, there's no question that the best NFL teams are going to want a closer look. They will want to grill him on his football knowledge, and see if he's worth drafting or if he might be a priority free agent.
Speaking of free agents, I am just going to throw it out there that I think agents are going to be lining their players up for the Denver Broncos after this year's draft. Despite the fact that the Broncos have 10 draft picks, they currently have less than 60 players on the roster. The chances of a UDFA making the team are pretty decent, and the Broncos will have plenty of competition this year.
For a guy like Boehringer, the Broncos have three seventh round picks. That's the perfect spot to take a guy you think has developmental upside, especially if you want to keep him from other teams on the UDFA market. He would certainly be coveted there, so the pre-draft visit process will be key for him.