Denver Broncos Rumors: Moving up for Paxton Lynch?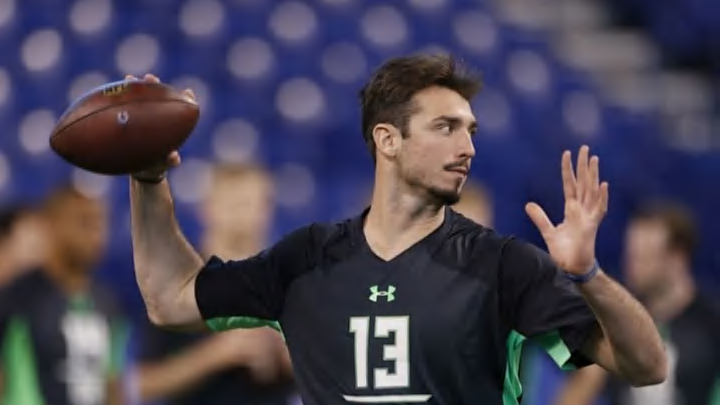 Feb 27, 2016; Indianapolis, IN, USA; Memphis Tigers quarterback Paxton Lynch throws a pass during the 2016 NFL Scouting Combine at Lucas Oil Stadium. Mandatory Credit: Brian Spurlock-USA TODAY Sports /
Denver Broncos rumors: Are the Broncos interested in trading up for a quarterback in this year's draft? Would Paxton Lynch be the guy they covet?
If you are reading any mock drafts or any Denver Broncos rumors lately, you're likely seeing a lot of the name Paxton Lynch. Lynch has been the name put to the Broncos in mock draft after mock draft. Now, reports are starting to trickle out that the Broncos are a team to watch on draft weekend to trade up for Lynch in the first round if he starts to fall. Here's what Optimum Scouting's Eric Galko said in a recent post about the QB rumblings league-wide…
"Paxton Lynch is our top quarterback in this class, but that sentiment isn't felt around the league. The Cowboys have interest (may not be that far off from Carson Wentz on their QB board), but the Rams seem like the odds on favorites to land him. If he slides past them, the Jets are a strong fit. Three teams that could move up for Lynch should he fall past the Rams: Cowboys, Browns (if they don't take Wentz) and especially the Denver Broncos."
The post is worth reading in full, as it also mentions Christian Hackenberg, and how Galko thinks the Broncos might be the best fit for him outside of his old college coach Bill O'Brien and the Houston Texans.
Certainly, the Broncos will be connected to every quarterback in this draft, but after Carson Wentz and Jared Goff, the best guy available is Paxton Lynch, and at least according to some, Lynch might be the true prize to be had in the group.
It's hard to disagree.
If the Broncos were willing to invest $16 million annually in Brock Osweiler (I still cringe at the thought…), then they should be willing to trade a pick or two to move up and get Paxton Lynch, who is essentially a clone of Osweiler physically. Lynch to me is a better prospect coming out of school.
More from Predominantly Orange
Lynch is really athletic, has a strong arm, and plays the position with the type of fire that you want to see from a youngster. The Broncos need someone who could possibly come in and start right away, which is why it seems more likely than not that they would trade up for a guy like Lynch, at least now before they have made any final decisions on whether or not to trade for Colin Kaepernick.
One thing is certain — the Broncos are going to be all over quarterbacks between now and the draft, but they will have to play their cards close to the vest. If they want to get a guy like Lynch, they might have to move up quite long way to do it.