Broncos Give ILB Brandon Marshall Second Round Tender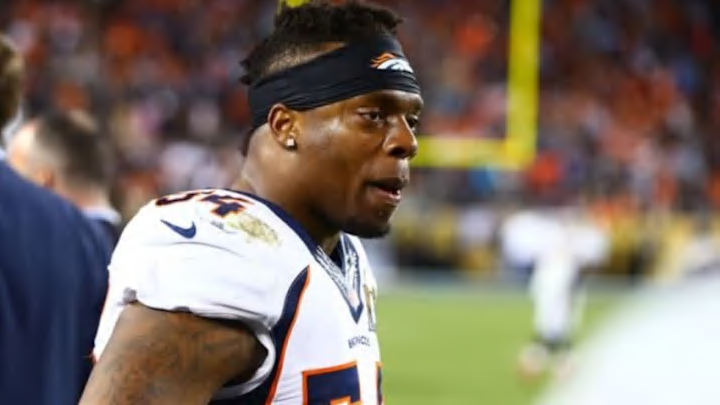 Feb 7, 2016; Santa Clara, CA, USA; Denver Broncos linebacker Brandon Marshall (54) against the Carolina Panthers in Super Bowl 50 at Levi /
Feb 7, 2016; Santa Clara, CA, USA; Denver Broncos linebacker Brandon Marshall (54) against the Carolina Panthers in Super Bowl 50 at Levi /
The Denver Broncos have made their first significant move of the 2016 offseason by offering inside linebacker Brandon Marshall a second round tender for the 2016 season.
Negotiations for teams before the free agent market opens up on Wednesday. And the Broncos have appeared to make a move on one of their own restricted free agents.
According to Trey Wingo of ESPN, the Broncos have given inside linebacker Brandon Marshall a second round tender for the 2016 season.
With that in place, other teams can negotiate with Marshall. It has been stated that Adam Gase and the Miami Dolphins could be somewhere he could end up. So, how this works is that the Dolphins could offer a contract sheet to the Broncos for Marshall.
At this point, the Broncos have a certain amount of time to match it or not. If they do match it, Marshall remains a Broncos player. If they can't match it or choose not to, the Dolphins would acquire Marshall and in return the Broncos would get the Dolphins' second round draft pick.
With the possibility of Danny Trevathan leaving via free agency, I believe the Broncos would do whatever they could to keep Marshall. He has been one of the most underrated players for the Broncos defense the past couple years.
The second round tender is quite a price for Brandon Marshall, and it shows how valuable he is to the Broncos defense. The key this offseason is to keep as much of the defense in tact.
Next: Manning's Greatest Moments with the Broncos
His sure fire tackling and run defense has been key for the Broncos the past few seasons.
I think the biggest question will be if a team would be willing to offer a second round pick? Guess we will have to wait and see. The Broncos have basically told other teams that they want Marshall to stay unless you can outbid them.
Keep it here at Predominantly Orange as we get set to provide you with coverage throughout the free agency period.