John Elway, Broncos looking to re-do Clady, Ware contracts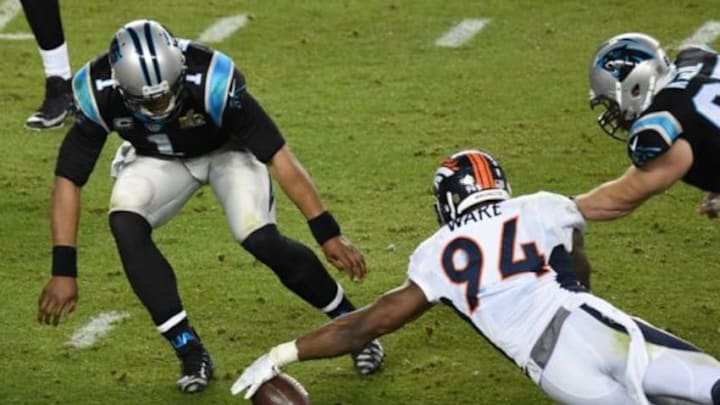 Feb 7, 2016; Santa Clara, CA, USA; Denver Broncos outside linebacker DeMarcus Ware (94) grabs a loose ball ahead of Carolina Panthers quarterback Cam Newton (1) during the fourth quarter in Super Bowl 50 at Levi /
The Denver Broncos and John Elway are looking to re-do the contracts of veteran players Ryan Clady and DeMarcus Ware…
The Denver Broncos can save $20 million by cutting Ryan Clady and DeMarcus Ware.
Adding $20 million to the budget this offseason seems like a pretty great idea, but this isn't a game of Madden and these moves have significant ramifications both on and off the field. Having veteran players like Clady and Ware can be extremely valuable, but the Broncos are trying to determine how valuable they are.
The NFL's salary cap just increased to over $155 million, roughly a $10 million increase from last year. The Broncos are in good shape as it stands with the assumption that Peyton Manning is coming off the books, but they need to open up some more money to be able to make some necessary roster moves this offseason, and they have spoken to the agent of Ware and Clady, which happens to be the same guy.
That's pretty handy for John Elway.
Clady voiced his willingness to make an adjustment to his contract the week of the Super Bowl, and the Broncos are certainly going to take advantage of that. The reason — other than his high cap hit — that the Broncos are willing to ask Clady for some cap relief is that he has a growing injury history.
The same is true for DeMarcus Ware, who played just 11 games this past season before lighting it up in the playoffs. Ware has been a major factor in the emergence and development of Von Miller as well, who has become arguably the best defensive player in the NFL.
Hopefully, the Broncos are able to get these two contracts re-done. They obviously need the cap relief, but keeping these two players part of the team moving forward is also important.
This seems like a no-brainer for all parties involved. The Broncos want to keep these guys around, and they should want to stick around, but now that everyone has a ring, sacrifices need to be made. Clady and Ware have received big paydays in their careers, so they could take one for the team and pass the torch to some guys who are coming off their rookie deals.
Let the dynasty happen.