Broncos free agency: Eric Weddle would be fun add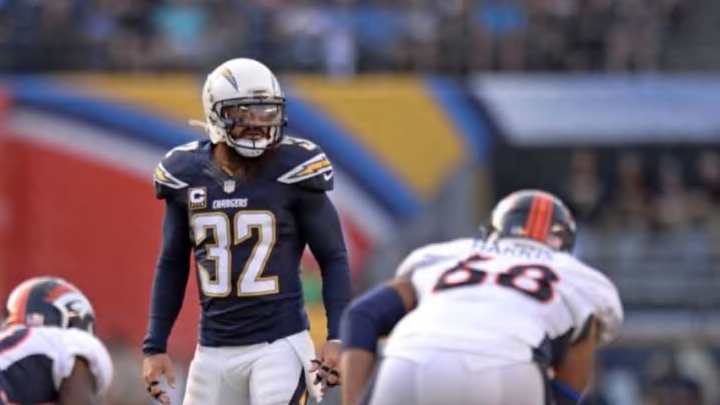 Dec 6, 2015; San Diego, CA, USA; San Diego Chargers free safety Eric Weddle (32) looks across the line during the second quarter against the Denver Broncos at Qualcomm Stadium. Mandatory Credit: Jake Roth-USA TODAY Sports /
Denver Broncos free agency: While the Broncos sort out their own free agent situations in-house, the possibility of signing Eric Weddle is incredibly interesting…
You use the draft to build your roster, and you use free agency to fill holes…
…or have some fun.
The Denver Broncos have arguably the best secondary in the NFL (inarguable, if you're asking me) and seemingly no need to improve but we all know complacency is one of our worst enemies and I had an idea that I thought I would just pass along.
At this point in his career (31 years of age), San Diego Chargers safety Eric Weddle doesn't need to play on a massive contract. Fair, but not out of this world. The Denver Broncos have a pair of safeties in T.J. Ward and Darian Stewart who play a very physical brand of football, and having three safeties of high caliber wouldn't necessarily mean that one guy has to 'sit on the bench' or lose snaps, but the Broncos could get really creative.
Last year, Stewart and Ward each missed time for varying reasons, injuries obviously playing a part. They are physical safeties that play with reckless abandon, and while that physicality and aggressive style of play helped get the Broncos a Super Bowl win this past year, it also got those two dinged up.
You can never have enough able bodies at any position in this league, as the Broncos' 2015 roster so clearly proved to us, and I think the defense would be further amplified by the addition of a player like Weddle on a 3-year contract, possibly worth around $4 million per season.
That might seem like a really low price for a player of Weddle's caliber, but he's interested in winning football games, and with the Broncos, he can make that happen.
He can also stick it to the Chargers twice a year.
Last season, Darian Stewart played 77.3 percent the defensive snaps for the Broncos in 15 games. T.J. Ward played 64.1 percent of the snaps in 12 games. David Bruton Jr. played 43.9 percent of the snaps in 13 games, including the Pittsburgh game where my man played on a broken leg.
With Bruton Jr. likely trying to find a 'starting' gig elsewhere in the league this offseason, the Broncos need to find a player to pick up the slack that he's leaving behind. Despite what you may or may not know, Bruton Jr. was arguably the Broncos' best safety last season on a snap by snap basis, including his ability on special teams and his vast improvement in coverage.
He had 49 tackles, a sack, two forced fumbles, two interceptions, a fumble recovery, and seven pass breakups in his 'limited' action at under 44 percent of the team's snaps. That number would have crept up to around 50 percent had he been healthy the final month of the season, but with Bruton leaving, the Broncos need another top cover man on the back end, and Weddle can be that guy.
Not only is he a great presence for the team as a veteran in the locker room who is hungry for a title, but he's one of the best all-around safeties this game has had in the last 10 years.
Weddle would immediately become the Broncos' best safety, and would allow Wade Phillips to have some fun with his defensive back groupings including the option of using T.J. Ward at linebacker, which could become an even more fun idea if Danny Trevathan leaves in free agency.
Ward is excellent in the box, but not great in coverage. Weddle is phenomenal in coverage, and with the secondary the Broncos already have in place, splitting the snaps three ways between some great safeties would be something that I think everyone could get on board with.
Would the financials work out? That remains to be seen, but it's a fun idea and since the Chargers have taken a few of our guys the last couple of years, we'll stick it to them by taking one of their best.