Broncos building blocks: Elite secondary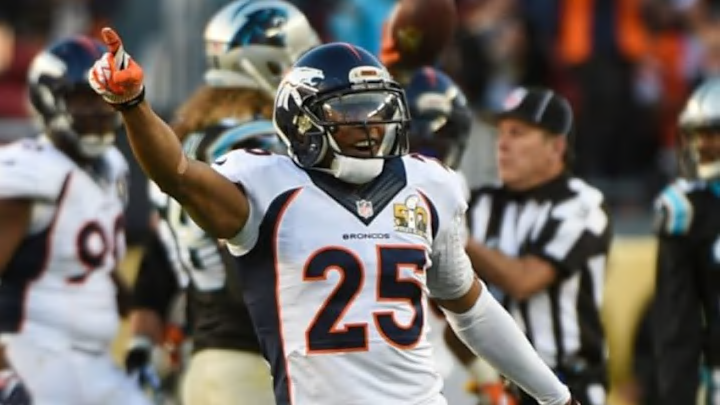 Feb 7, 2016; Santa Clara, CA, USA; Denver Broncos cornerback Chris Harris (25) celebrates during the second quarter against the Carolina Panthers in Super Bowl 50 at Levi /
Denver Broncos building blocks: While the focus this offseason has been on what the Broncos are losing, let's take a look at one of the team's greatest strengths — an elite secondary…
While the 2016 free agent period draws closer and closer, I want to take a look at something the Denver Broncos can actually build on this year instead of worry about losing.
The greatest strength of this team outside of its elite pass rush is the secondary, which features three of the league's best cornerbacks, as far as I'm concerned.
Aqib Talib, Chris Harris Jr., and Bradley Roby make up the best group of cornerbacks in the NFL, and safeties T.J. Ward and Darian Stewart added in makes this Broncos secondary legendary.
And they are all together, under contract for at least another season.
If the Broncos are going to repeat as Super Bowl champions, this unit is going to be a major reason why. Not only do they know how to attack the football, they understand the physical aspect of the game is just as important. These guys fly around the field and make tackles and big hits just as well as they fly to the football.
Just like a huge number of players helped this team lead the NFL in sacks, a lot of different guys played a part in this being the best pass defense in the league, one that was stingy from the first game all the way to the Super Bowl.
What makes these Broncos cornerbacks so successful? It's their ability to play tight man-to-man coverage, their ability to turn a game around with a big interception or pass breakup, and the way they attack the opposing team's best receivers.
These guys are fearless, they believe they are the best, and they play like it.
I was very interested when the Broncos used a first round pick on Bradley Roby after they signed Aqib Talib to a huge deal, and they followed it up with giving Chris Harris Jr. a massive contract a year ago. This group has been growing together now for two seasons, so it's fair to assume they've just reached the tip of the iceberg when it comes to their potential in working together as a unit.
In today's NFL, having elite cover men is crucial because of the way the passing game is so heavily utilized. If you can't cover and be physical on the back end of a defense, you're going to get smoked. The Broncos found that out the hard way, and John Elway and the front office set out to correct it.
They've done that, and then some.
This is a group the Broncos can build around for the present as well as the future. They certainly have business to take care of elsewhere on the roster, but we can all rest easy knowing Harris, Talib, Roby, Ward, and Stewart will be on the back end to make plays when the Broncos need them.
This is one of the best secondaries I can ever remember seeing in this league…