Broncos and Free Agent Alfred Morris Are Right Match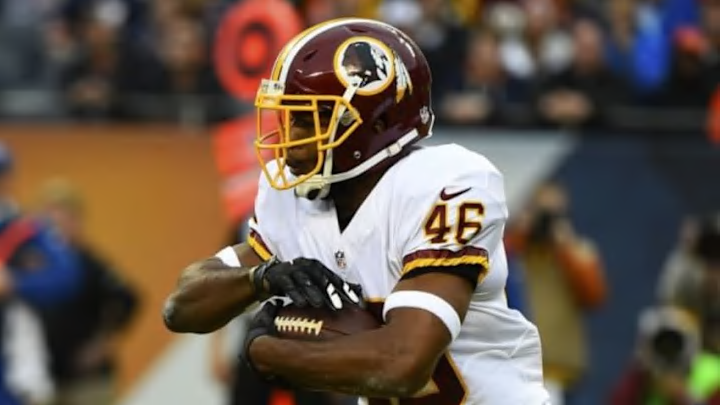 Dec 13, 2015; Chicago, IL, USA; Washington Redskins running back Alfred Morris (46) carries the ball against the Chicago Bears during the first quarter at Soldier Field. Mandatory Credit: Mike DiNovo-USA TODAY Sports /
This upcoming season, the Denver Broncos face near certainty of upgrading the running back position. Whether to compliment CJ Anderson or supplant him as starter, pending free agent Alfred Morris just might be the right match.
The running backs in this year's free agent market certainly have the mix of age, production and talent; however premier players like Doug Martin and Matt Forte should lead their running back free agent class. All three running backs offer great opportunity, but Morris is the most logical due to his age, familiarity with a Mike Shannahan/Gary Kubiak offense and being a better contract bargain.
It is unknown what the dollars and cents would be for Morris; however a contract worth around $4-6$ million per year might be the right range to sign him. Critics will point to Morris' decline since the 2012 season, but that high watermark occurred under Shannahan, known for creating excellent running back production.
Balancing how the Broncos upgrade the running back position while retaining higher priority free agents such as: Von Miller, Malik Jackson, Danny Trevathan and Brock Osweiler. Acquiring the likes of Martin or Forte would be incredible. But these key Broncos players were instrumental in getting to, and winning, Super Bowl 50 and they could key a repeat run. Morris' price tag should be more palatable and not compromise the Broncos' higher priority signings and give Kubiak the right one-two punch for his offense.
Morris would not be the guaranteed starter, but has much greater upside for the team than Ronnie Hillman, who will likely not be retained by the team. The Broncos may look to add running back through the draft, but they also have enticing in-house candidates. Players like ex-Colorado State Ram running back, Kapri Bibbs, along with Juwan Thompson, offer a more economical option and should benefit from being in the Kubiak system for over a year. The Broncos remain high on Bibbs and Thompson, the latter will likely see the field more than Bibbs.
Although we should not underestimate what John Elway will accomplish in balancing the team needs with signing someone of high shock value. But at 27-years old, Morris has a lot left in the tank and re-uniting him with a familiar system under a win-win contract scenario could be a blessing in disguise.