Broncos free agency: Chris Long a possible fit?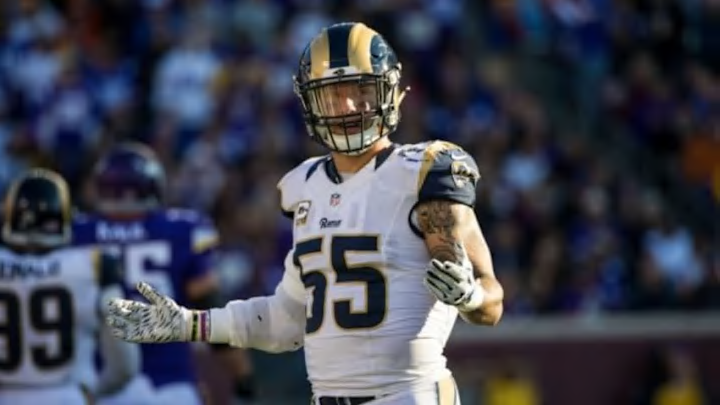 Nov 8, 2015; Minneapolis, MN, USA; St. Louis Rams linebacker James Laurinaitis (55) against the Minnesota Vikings at TCF Bank Stadium. The Vikings defeated the Rams 21-18. Mandatory Credit: Brace Hemmelgarn-USA TODAY Sports /
Denver Broncos free agency: Is recently released linebacker James Laurinaitis, formerly of the Los Angeles Rams, a fit for the Broncos?
NFL Free agency is nearly upon us, and perhaps that's the reason I want to discuss the possibility of James Laurinaitis on the Denver Broncos more than anything — it's just exciting to be at this time of year.
And, as the Super Bowl champions, the Denver Broncos are an attractive destination for veteran players like Laurinaitis.
Laurinaitis has played all 16 games of his entire seven-year NFL career, and has never had fewer than 109 tackles in a season. Those are pretty incredible numbers, but some say his play has fallen off in the last couple of years.
The guy is still a tackling machine, and I remember in the 2009 NFL Draft how so many Denver Broncos fans wanted him in orange and blue. Would he still look good in those colors? You bet your bottom dollar he would, but what is the fit right now?
The question is whether or not the Broncos are able to retain Danny Trevathan, and they also have to prepare to pay Brandon Marshall. Obviously, Trevathan is going to be the priority over a guy like Laurinaitis, but at this point in his professional career, money isn't the object, winning is, and he would have the chance to join a special defense that just carried this team to a Super Bowl championship.
That's an intriguing prospect for any free agent out there.
The Rams also released tight end Jared Cook and defensive end Chris Long. These are not your typical roster cuts, but apparently the move to LA sparked some newfound confidence in the Rams franchise, and they decided to cut ties with a pair of defensive captains and a tight end who is incredibly talented but struggles with drops.
I think those names would all be interesting adds to this Broncos team at the right price, but time will tell and Denver hasn't really even gotten to work re-signing any of its own players yet at this point.
We shall soon have answers…