Broncos mock draft: Indiana OT Jason Spriggs a popular pick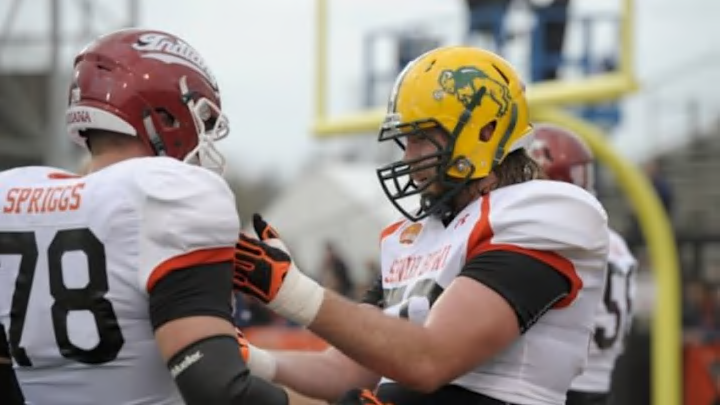 Jan 26, 2016; Mobile, AL, USA; North squad offensive tackle Joe Haeg of North Dakota State (right) works with offensive tackle Jason Spriggs of Indiana (78) on a drill during Senior Bowl practice at Ladd-Peebles Stadium. Mandatory Credit: Glenn Andrews-USA TODAY Sports /
Broncos Mock Draft: As you look around the web at mock drafts, one of the most popular players being picked for the Denver Broncos is Indiana Hoosiers OT Jason Spriggs…
One of our good friends over at Mile High Report, the legendary Tim Lynch, recently took a look at a number of mock drafts around the web to see what the most popular picks for the Denver Broncos were. In a pretty large sample size, he found the most popular selection to be a big man, though it would be a first for John Elway…
Indiana offensive tackle Jason Spriggs was the selection projected to the Broncos in almost 17 percent of the mock drafts Lynch studied, the highest percentage of any other player. Arkansas TE Hunter Henry was the next closest at just over 11 percent.
We wrote back in November that Spriggs could be of interest to the Broncos due to his athleticism and possible fit in the zone blocking scheme the Broncos employ.
That certainly hasn't changed, although John Elway has never used a top pick on an offensive player. That doesn't mean he wouldn't if the situation wasn't right, but there are some things we need to consider here…
1. Is Spriggs likely the best player on the board at 31?
Spriggs is currently ranked 42nd overall among 2016 prospects by NFL Draft Scout on CBSSports.com. That doesn't mean he's not worthy of a first round pick, but last year, the Broncos picked pass rusher Shane Ray in the first round. Some had Ray ranked in the top 10 of their overall players prior to a draft week incident that caused his eventual slide.
The year before that, Bradley Roby was chosen with the 31st overall selection, and some ranked him as a top 20 player.
I wonder if, in a draft so deep on the defensive side of the ball, Spriggs would be the best player at 31 overall for the Broncos…
2. Is OT the team's primary need?
Without a quarterback, the answer to that question is certainly "no" but the Broncos are also dealing with some potential losses on the defensive side of the ball, in particular on the defensive line where Malik Jackson is set to depart.
The Broncos will have 9 or 10 picks this year, so they'll have the luxury of trying to find the 'next' Malik Jackson in the middle rounds, but they could also opt to use their top pick on the defensive line. That has certainly been heavily rumored. Defensive linemen counted for 16.4 percent of Lynch's initial mock draft study.
With Ryan Clady set to return from injury along with 2015 2nd round pick Ty Sambrailo, there's definitely reason to believe the Broncos won't use a top pick on an OT.
Bottom Line
I would be giddy about Spriggs being the Broncos' selection, but I don't know if it is as obvious as so many mock drafters are making it. 16.3 percent is a lot of mock drafts picking the same player for a team, so you have to wonder if there's actually something to it or if people are just taking the easiest road they can with the Broncos in a mock and giving them the best OT on the board rather than the best player available…